Advertise & Monetize with TrafficShop
Get started with web and mobile superior online advertising network. Wide range of formats with millions of ad impressions daily. Thousands of clients worldwide trust us.
Get started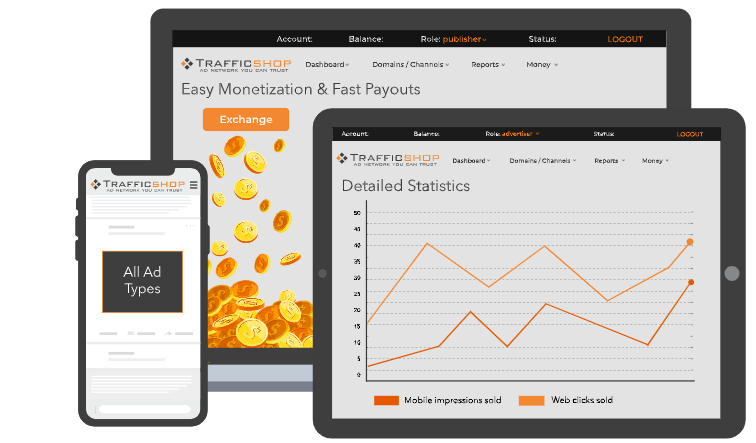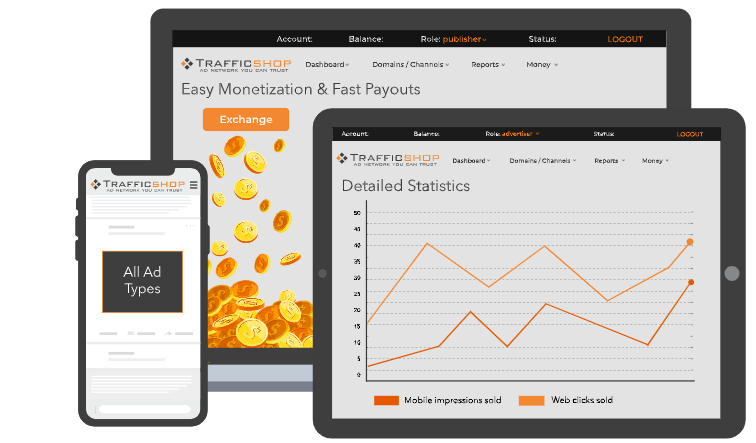 Ad formats
Banners
We work with all popular banner sizes certified by IAB.
Popunder
Powerful cross-browser popunder script for the best performance of your campaigns.
Skimmed
Skimmed traffic is a great way of putting your ads in front of the targeted broad audience.
Native
Native Ads Ad format, naturally integrated into content of the site. Works on mobile and desktop.
Create Account
Publishers
Get maximum revenue for your web and mobile inventory. By connecting your site to the trusted network with advertisers you will get best rates for your traffic.
Clean & safe ads
We hand pick advertisers for your traffic, each campaign goes through approval
Competitive rates
We provide you with best CPM rates on the market and special CPM deals for premium traffic
Fastest payouts
We pay out to a number of popular payment systems
Responsive support
We provide technical support for all publishers and personal support managers for VIP publishers
Create Account
Advertisers
Worldwide coverage and cross-platform advertising with deep targeting will help you reach the right audience.
Popular formats
Mobile and desktop banners, native ads, pop unders, skimmed traffic
S2S tracking
Our easy to implement S2S tracking is here to help you control traffic performance in real time
Quality traffic
There is a sophisticated quality control system in place allowing us filter our fraud, bot, malware traffic thus providing you with the quality
Deep targeting
Reach that right audience using geo, city, browser, language, frequency cap, ip ranges, day parting and more
Create Account